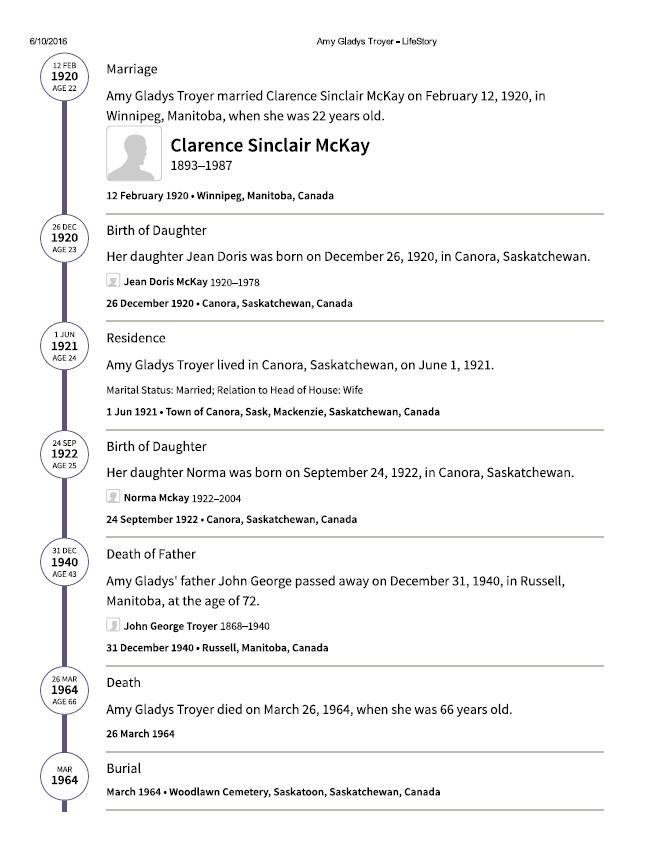 Hello,
Wilda Clibbett is my maternal grandmother and that picture is possibly a picture I scanned in from my mother's collection of photos. (or it is a copy someone else had of the same picture – which would be great to hear about), though Wilda's had the names on the back and that's here I ID'd the subjects from.
I had done some Googling and searching on Ancestry.com for those other last names several (~10?) years ago and came up empty, though perhaps they would have some hits now.
There is a great picture of Wilda about 10 yrs old at a one-room school that would have been about 5 miles North and 2.5 miles East of Canora called Meadowdale. I found a local history book in the main Regina library while there on a business trip several years ago that mentioned the location of the school and more recently I found a township map of the area that showed the exact quarter section given to the school. I actually drove out there and talked to some locals who said the one on the picture below burned down and the replacement structure was hauled away in the 70's for use as a shed or something.
http://www.rootsweb.ancestry.com/~cansk/school/MeadowdaleSchool.html
Wilda took and/or collected a whole bunch of photos we are fortunate to have dating from about 1908 (born 1900) to the end of her life in Saskatoon in 1969.
She married Walter Clibbett in 1918 and they had 3 girls (Feb 1919 – that was cutting it a little close); 1922 and my Mom in 1924 , the middle one dying at age 5 in 1927. She and Walter separated though somewhere in the early 40's perhaps earlier? And he moved to Chilliwack with the then still-married wife of their landlord ! (And the landlord, I kid you not, was Bruce Robert Wilson Langton, the little boy who barely survived the ride in the canoe from Wascana Lake during the 'Regina Cyclone' of 30 Jun 1912 ! )
She went back to school at 56 or so, graduating from nursing at age 58 and worked as a nurse's aid for several years.
Wilda lived most of her life in SK, though she got shuffled off to aunts in Fergus, ON and back to Strathmore and Vulcan, AB for a few years early in her life as her mother died 5 months after she was born. Her father's new wife supposedly was OK with her two older brothers staying on the farm in the Dodsland, SK area, but didn't want the young girl (or so my mother remembers the story going). My Mom is 92 and living unassisted in Edmonton.
Want more info? Lemme know!
Best Regards,
Gord Parker
Calgary
Bob,
I re-looked at Ancestry and as I'd thought, two of the girls now have someone researching them. Their tree pages generated the nice little life histories I've enclosed. I wasn't really able to find the 3rd girl.
Amy's father's occupation in the 1916 census is Farmer, in Twp 32 Range 3 W2, near RM of Keys, SK. That township will be about 7 miles straight South of Crystal Lake and probably on the East side of Hiway 9. It is being researched by someone named Heather McIntyre in her 'Brown Family Tree'.
Cora Betts' father is also a farmer and their location in the 1911 census is 16-32-4-W2 which is 7 or 8 miles South and a little West of Crystal Lake, just West of Amsterdam.
An ancestry user name of mag1johnston is researching her in the 'JOHNSTON-ELLIOTT-MACLEAN-NELSON FAMILY TREE'
Alice Tatham doesn't seem to have anyone researching that name, and I didn't find her in the area, though there were some Tathams in Last Mountain area, so perhaps she was visiting some kin over the summer?
At least three of these girls (including Wilda) lived within several miles of that school I mentioned in the previous e-mail, so I'd bet they were just plain ole' school friends going out to the lake together. Though a parent was likely there with the camera (and to handle the horse and buggy). The same thing happened there last year a few dozen times except those pictures woulda been up on Facebook in milliseconds.
Did people have recreational properties in 1912 ? Maybe, but it sure would have been a luxury. Was Crystal Lake a resort back then? I'd really bet that was a special time, I would think recreational opportunities she had as a child were *very* limited, getting pushed off to her Aunts in ON after her mom die 5 months after she was born.
From at least 1908 to 1912 Wilda lived on section 31-31-3-W2 (Just N of Canora close to Meadowdale School) with her Aunt Mattie and Uncle John Cook. Two of her cousins were also born there, John ARTHUR and Jennie.
One picture, dated 15 Jul 1963 was the first time she and her 2 brothers had been all together at the same time since 1907 ! (And hmmm.. 9 Jan 1907 is when the evil step mother came into the picture). Its taken at their father's Court, SK homestead.
Wilda's husband (the one that ran away with a married woman) I guess wasn't a real go-getter, so she moved a bit with the kids to where she could get a stable position as a nanny or housekeeper with her kids and place for them to live. She wasn't overly religious, but sure did what she had to for the kids. As tight as times were for a woman with a somewhat underperforming husband, my Mom is sure there was a headstone made for Carrie, the middle child who died age 5. So I imagine that was painful even to a generation more used to premature deaths on the prairies than we are now. When flus and other things hit, there jut wasn't the tools and resources in 1927 Govan that we have now. Perhaps that's why she became a nurse.
She died when I was 6, so I didn't really get to know her. I asked my older siblings (who are all 10+ years older than me) if they had some insight, but no, they were pretty young too. But one of the pics is her walking down the street with my oldest brother George and he says to this day one of his absolute favorite memories was getting sent out of Edmonton for a couple weeks in the summer at Grams in Govan. So she sounds like a perfect Grannie!
As I write this, I see there isn't anything that unusual about her story like so many western pioneers. She was born in Ontario and her father came to SK to farm but they seemed very fluid going back to ON more than many people travelled back then. And because her mother had died when she was 5 months, and some of the Mom's family was in Guelph/Fergus area, she finished high school in Fergus, ON. In the Crystal lake photo, she looks about 10-12, so that means 1910-1912 she was in SK.
Her husband died in 1952 in Chilliwack, BC where he had moved with 'the other woman' so I guess that is when she was able to remarry as I do know she remarried in 2 Jul 1954 to a super nice gentleman, a butcher, mailman, town Councillor in Govan, Peter Edwards. They stayed married to her death.
Her one brother Milton stayed on the family farm at Court, SK and kin are still there today. (This was the farm where the 'evil' step mother (haha) didn't want a little girl around. The other brother, Albert Griffin Hill became an M.D. in Toronto, though I have several pictures of them together as adults so they stayed in touch. He first served in WW 1 http://153rdwellington.com/153rd.html?mode=view&id=606 .
I'm not sure if you're into family trees, so I'll add a couple notes about genealogy:
1) Indexed and transcribed records are increasing FAST as there are more and more collections of data getting typed in by volunteers and/or scanned in and digitally character recognized. Voter lists, border crossings, small town trade directories, railroad pay slips, censuses, you name it. Sot surprised I found a ton of info on these girls when a few years back there was none whatsoever.
2) Ancestry.com (.ca et al) has an interesting TV show "Who Do You Think You Are?" where they research some (tear-jerking) branch in a celeb's tree. This little exercise here was interesting too as it shows their data can be used for area research too. If you really wanted to get into an article (or a series or a book), I'd bet you could gle a free subscriptfrom them for the publicity to them.
One of my brothers mentioned: http://www.babynamespedia.com/meaning/Wilda
The baby girl name Wilda is pronounced as WIHLD-ah †. Wilda has its origins in the English language and it is also used largely in English. The meaning of Wilda is 'untamed'. Wilda is the feminine version of the English Wilder. Wilda is unusual as a baby girl name. Its usage peaked modestly in 1926 with 0.033% of baby girls being named Wilda. It was #327 in rank then. The baby name has dropped out of favor since then, and is currently of only sporadic use.
About me, nothing too unusual. 50 something, married, work on pipelines and ride mountain bikes. My Dad was retired when I finished NAIT (Electronics Engineering Technology) in '92 I started giving him my old hand-me-down computers with a family tree software on it. It totally gave him something to do and got him out talking to people, tracking down relatives and kept him very* busy and excited with life. A trip to Iceland when he found some rellies there and a trip to England to research that side of the tree. He passed away about 10 years ago and I didn't do much with the tree but said I'd subscribe to Ancestry when I had enough time to get my money's worth. I subscribed a couple years ago after deciding to work part time contracts and enjoy myself and haven't regretted a minute of it. (We went mountain biking to Spain a couple months ago and I put a little vid up on YouTube: https://www.youtube.com/watch?v=TuBIpOXW98Q )
Sure, please use any of this info in your story, history needs to be re-told / remembered. None of my nephews & nieces were too interested but they're coming around as they get into their mid+ 30's. The ease and recreational opportunities of our life now are something I continually reflect on when seeing these old stories.
If you have further questions, don't hesitate to ask and I'll see what I can do.
Regards,
Gord